The "Go Logistics Guarantee"
From day one, Go Logistics has backed its service with our own Guarantee. This is not looked after by an insurance company, but by ourselves allowing us to take control that insures our clients are being looked after.
We deliver thousands of parcels per day yet claims are 0.04% of our annual deliveries.
Most transport companies require you to specify insurance which of course is an additional cost. Go Logistics is the first company in Sydney to have "built in" coverage should any unforeseen circumstances happen to your consignment.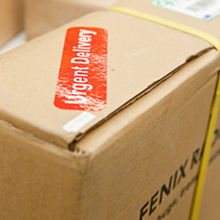 The Go Logistics Guarantee covers freight sent throughout N.S.W. and Canberra only, as this is our specialty market. Freight sent outside these states are not covered by our Guarantee, so we advise you have your own insurance for these areas.
Although we hope you never have to use it, rest assured that we cover consignments up to $1500 at no extra costs. Click here to see our Terms and Conditions.