Sydney Courier Services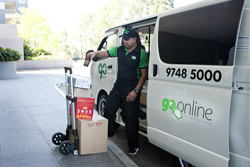 Over the last eleven years, Go Logistics has become the best 100 percent Australian-owned same day Distribution Company in NSW. Our specialty from day one is our fixed-rate twice daily delivery service in Metropolitan Sydney, the Central Coast, Wollongong and Blue Mountains.
To complement this, we have an overnight delivery network serving the NSW and Canberra areas. Since 2005 Go Logistics has been servicing its clients' needs to deliver time critical freight such as perishables, medical supplies and industrial equipment throughout these regions. Our long term client relationships are a result of our commitment to excellence, with the reliability that our clients depend on to deliver each and every day.
Receiver Pays Couriers
Our Receiver Pays (RP) service can be used to request items to be picked up from one address and returned back to your location. This is highly efficient and economical way to receive goods back to your business on the same day.
Our RP service is available to all our clients, and is widely used in the dental, industrial and automotive industries. Please note, we have a minimum charge for this service.
Our RP service is available throughout Metro Sydney, Central Coast, Blue Mountains and Wollongong; SAME DAY! For all other areas of NSW and ACT please allow 1-4 days return time.
If you're current supplier does not offer a same day service and you have clients that need stock urgently, our RP service may save the sale for you.
A few key points to remember when using our RP service:
Confirm with the pickup point that the goods are packed and ready to be collected before placing your booking.
Although most areas have an 10.45am and 3.45pm cut off time, there are some variations to this. You can find the complete listing here.
When placing your booking, let our lovely staff know if any reference numbers, contact names, or other specific instructions are required upon pickup.
Normal business hours are 9am to 5pm; if the pickup point varies from this, please let us know when placing your booking.
Please allow our amazing drivers as much time as possible to complete your pickup. For example, placing a pickup at 3.40pm from a business that closes at 4.30pm may not allow our drivers enough time.
Our drivers work very hard to earn your business. However, in order for us to remain on schedule, the waiting time for RP pickups is very limited. Our policy for this is five minutes, although if possible our drivers will wait a little more if required. Therefore, the first point in this list plays a crucial role in making sure you receive your goods on time.
If you place a booking and at no fault of our driver or office staff the pickup becomes futile, you may still be charged. We never like having to enforce this, so please ensure a contact person at the pick up location is aware of your courier booking for collection.